Behavior Analysis is an evidence based treatment for autism and related disabilities. Our team can bring this treatment to you and your family in a way that is accessible, friendly, and very positive.
Our Mission
Mountainside ABA was created to bring practical, positive behavior analysis treatment to individuals and families. Our emphasis is on quality and family inclusion.
OUR TEAM
Liz: Mountainside ABA Founder, Director, bcba
Liz is a BCBA who specializes in teaching communication, independent living skills, and decreasing problem behavior. Liz loves to share the strategies that she's learned with families and those seeking a career in ABA. She believes every individual that she works with has a variety of very effective skills.
Liz worked in an autism diagnostic clinic, which led her to pursue a career in autism treatment. She earned a masters degree from James Madison University in Psychology with a specialty of Applied Behavior Analysis. She then earned a masters degree from George Mason University in Special Education with a certificate in Assistive Technology.
Liz has worked in inter-professional clinics that provided ABA, speech therapy, and occupational therapy. She has worked in public special education classrooms. She served as a program director and special education teacher at a non-profit special education school, primarily serving students with autism and intensive problem behaviors. Currently, Liz is the founder and director of Mountainside ABA providing in-home and center-based ABA services. Additionally, Liz is a WV Birth to Three provider.
Emily Smiechowski has worked in the field of special education for 5 years. She is a graduate of Point Park University in Pittsburgh, with a degree in Elementary Education and Special Education. After graduation, she relocated to the Shenandoah Valley in Virginia in search a job as a special education teacher. She taught at a middle school for two years and also became involved in the Child Study process as Child Study Chair. While working as a special education teacher, she began to see a student exhibit significant maladaptive behaviors. She began to seek out help from fellow co-workers and found out about ABA. She had found her calling and began studying ABA at Shenandoah University. She received a Master of Science in Applied Behavioral Analysis and sat for her Board Certified Behavioral Analysis exam in June of 2016 and also became a Licensed Behavior Analyst in Virginia. She worked at a private day school in Northern Virginia for two years, where she served as a program director, BCBA, and licensed special education teacher for students with severe problem behaviors. In July of 2017 she became a Licensed Behavior Specialist in Pennsylvania and began to make the move back to Pittsburgh. Emily enjoys writing behavior interventions plans and showing families how to decrease problem behaviors, while increasing functional behaviors. She has had experience with many different types of maladaptive behaviors as well as working on functional goals and increasing communication. In her spare time, she enjoys spending time with her husband, Steve, and their dog, Rex.

Valerie received her Bachelors degree in Psychology with a minor in Family Studies from James Madison University, and then went on to earn a Masters degree in Special Education from Old Dominion University. As a special education teacher, she taught children (K-5) with autism and other developmental disabilities for ten years in Front Royal, Virginia. She became a Board-Certified Behavior Analyst in 2014 through Florida Institute of Technology, and is licensed under the Virginia Board of Medicine. She is experienced in helping children increase their adaptive, academic, communication, social, and executive functioning skills, as well as decreasing challenging, inappropriate and severe behaviors. As a special education teacher she wrote Individual Education Plans (IEP) and Behavior Intervention Plans (BIP) for her students, and worked closely with speech and occupational therapists and the students parents/guardians. Valerie lives in the Shenandoah Valley with her husband Harry and son Chandler. Valerie and her husband adopted their son at birth, and later he was diagnosed with ADHD and a mild form of autism. The experience of parenting a child and teaching children with disabilities helps Valerie understand how to help clients in the home and in school, while understanding what parents go through. Valerie is the BCBA/Clinical Supervisor for the Winchester and surrounding areas. Please feel free to contact Valerie if you have any questions or concerns.
Brandie- Skills coach, Registered behavior technician
My name is Brandie Thurston. My interest in working with the special needs community started when I was in high school. I participated in the partners club, a club where peers get together with the students in special education classes and do extracurricular activities together (such as attend football games, put on plays, go bowling, etc.). During high school, I also got my license as a Board Certified Cosmetologist. Upon graduating, I started working at a salon and soon after, I began interning at a private school for children with special needs. Because of my experience in both the special needs field and hair care, I do provide hair cutting services for some of the children and adults I work with. After nine years of experience, I found myself working with Mountainside ABA and I am now a Registered Behavior Technician. I fell in love with helping children thrive in the community, improving their behavior and growing academically and, I continue to have the same passion for my clients with Mountainside ABA.
Erin Martin-registered Behavior Technician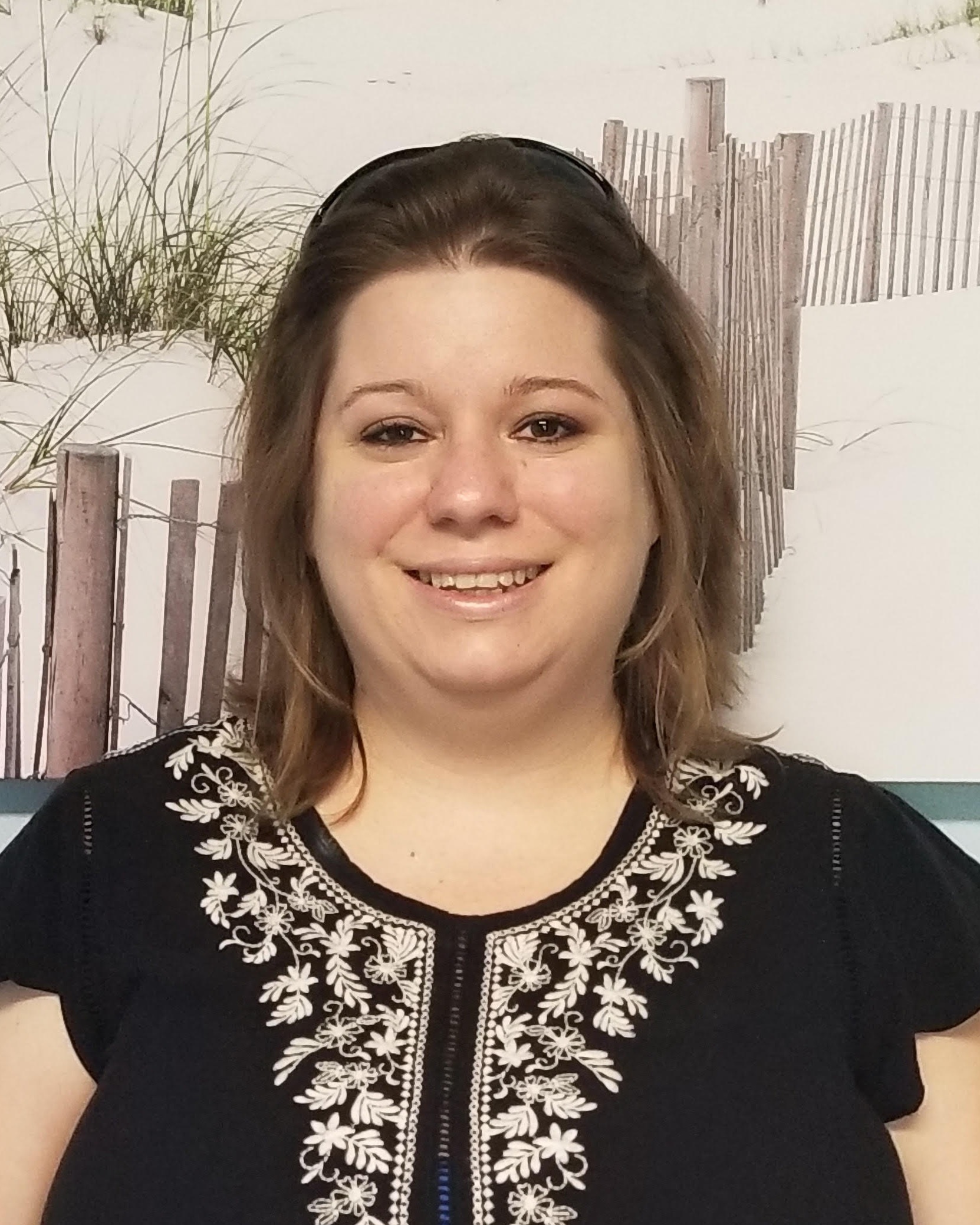 Erin comes to Mountainside ABA with an Associates degree in Human Development and Family Studies through Penn State. Erin brings a unique perspective and understanding to our company, as a parent of two children on the autism spectrum she has navigated her children through multiple services such as Birth to Three, school IEP's, Medicaid, and I/DD Waiver. She loves working with children with special needs and wants to help them and their families through ABA therapy. " Seeing your child's face light up because they have learned something new is priceless." Erin Martin
AMBER BELL-REGISTERED BEHAVIOR TECHNICIAN
After earning her Bachelor's degree in Health Sciences from James Madison University, Amber relocated to West Virginia to begin her career working with the special needs population. In addition to health sciences, she has studied exceptional education, communication sciences and disorders, and occupational therapy. She also has experience with grant writing and is working closely with families to help them receive alternate sources of funding for services. She has always been passionate about advocating for individuals with different abilities and promoting inclusion. Through compassionate care and ABA services, Amber is so excited to help individuals and their families reach their goals!
TINA TOMALESKY-REGISTERED BEHAVIOR TECHNICIAN
Tina has 18+ years of experience working with individuals with special needs. She is a Registered Behavior Technician and has worked in a variety of settings including schools, homes, clinic, residential facilities, camps, and social skills groups. Tina's passion in the field is teaching families how to support their children in being a participatory member of their family, school, and community. Tina, her husband, and their two teenage children love to spend their time outdoors hiking and at the lake, eating healthy, spoiling their animals, and giving back to their community. She plans to pursue her certification as a BCaBA this year.
Autumn Shreve-Registered Behavior Technician
Autumn Shreve received her undergraduate degree in Psychology and Human Services at Davis & Elkins College, and is currently working towards becoming an RBT. She has always had a passion for helping others and being an advocate for those who are in need of support. She developed an interest in working with individuals with various types of disabilities and special needs following her practicum experience at West Virginia Division of Rehabilitation Services. Her main focus is making a difference for families and their children seeking ABA services.
ARIANNA LIPKA-Behavior Technician
Hello! My name is Arianna and I am a junior at Shenandoah University. I am currently studying psychology with a minor in criminal justice. I have been working with kids with autism for over 2 years and I love it!
Patience Lineburg-Registered behavior technician
Patience is a 2007 graduate of James Wood High School in Winchester, Virginia and currently resides in Winchester. With over 5 years experience providing support for the special needs population, she is working toward a bachelor's degree in Applied Behavior Analysis and plans to pursue a Master's degree. One of her long term goals is to sit for the BCaBA exam and then, when eligible, the BCBA exam. During an elementary school mentoring program, she discovered a passion for the special needs population that has only grown over the years. After being employed by a private school that served children and adults with complex disabilities and severe behavioral challenges, she is now an employee of the Shenandoah County Public School system. Her background strengths are managing severe behavioral challenges, naturalistic teaching and discrete trial instruction. When she isn't working, she enjoys camping, floating the Shenandoah River and spending time with her pets, friends and family.
Kaylee Antill-Registered Behavior Technician
Kaylee graduated in 2017 from California University of Pennsylvania, with a Bachelors Degree in Communication Disorders. She then received her Masters Degree in Special Education with a concentration in Applied Behavior Analysis in 2018. Kaylee's passion began at a young age, growing up with a close friend who was diagnosed with autism. She always knew she wanted to be able to impact the lives of those like her friend. Her past experience includes working at a Social Skills group for children on the spectrum as well as a school specifically for children with autism. She is looking forward to joining Mountainside ABA to expand her knowledge and continue helping children.
Alexandra Estrada, Behavior technician
Alexandra will receive her Bachelor of Science in Biology in December of 2019. She is also currently on track to obtain her RBT certification. She has always loved working with kids and has been coaching youth soccer in Maryland and West Virginia since 2015. She has worked as a physical therapy technician since 2017 and has experience in helping people of all ages. Her interest in ABA therapy began after working with a child who has autism though her job as a PT technician. In her free time, she enjoys spending time with family and being outdoors.
Racheal Hulett-Registered Behavior Technician
Racheal received her undergraduate degree in Psychology from West Virginia Wesleyan College where she began her interest in ABA after interning at the Intensive Autism Clinic located in Morhantown, WV. She continued on to receive her masters degree in Special Education with an Emphasis in ABA from West Virginia University. She has experience working with individuals with disabilities of all different ages to help and support them to become as independent as they can be. Her passion is to advocate for those that aren't able to for themselves. She is excited to continue gaining more experience here at Mountainside ABA and is eager to in the future to sit for the BCBA exam.
MICHELLE FINK-OFFICE MANAGER
From her years as an underground safety inspector, to her position with a local physician's office; Michelle brings years of office administration and customer service experience to the Mountainside ABA family. She works closely with our director in handling the daily office operations. She believes our staff has a positive and lasting impact on the the lives of our families. Michelle is here to help-feel free to contact her with your questions or concerns.